Dear Valued Customer,
We would like to inform you that Alipay and WeChat Pay will suspend settlement from December 26th to 27th , 2022, and from January 2nd
to 3rd, 2023, due to the Christmas holidays and the 2023 New Year's Day.
Please make any necessary arrangements to your funds and business ahead of time. After that period, the settlement rule will return back to the normal situation.
Our offices will be closed for the holiday period from 22nd December 2022 and will reopen on 9th January 2023.
PLEASE NOTE – The support team will only be available over this holiday period to attend to any emergency you may have.
On behalf of our team, we wish you and your families a safe and joyous holiday period and we look forward to your continued support in 2023.
Thank you for your understanding and support.
Best Regards
ePayments Team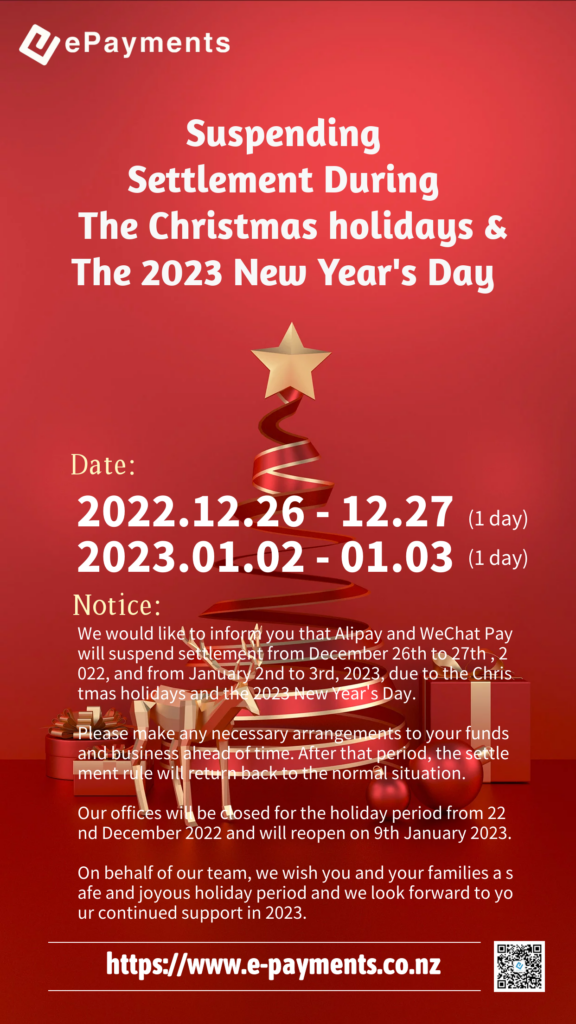 尊敬的合作伙伴和商户:
由于圣诞节及元旦假期的影响,支付宝、微信支付将在2022年12月26日-12月27日以及2023年1月2日-3日暂停结算,请您提前做好资金安排,后续会恢复正常的清算规则。
在此期间,我们的办公室将从 2022 年 12 月 22 日起关闭,并于 2023 年 1 月 9 日重新开放。
我司团队仍会在假期期间提供服务,以处理您可能遇到的任何紧急情况。
祝愿您和您的家人度过一个安全愉快的假期,并期待您在 2023 年继续支持我们。
顺颂商祺
ePayments Team